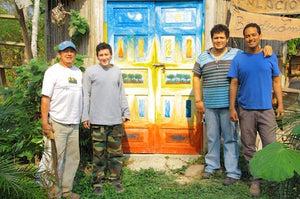 Our founders Mickey and Robbyn started out on Salt Spring Island as organic farmers, selling their harvest at the local market. Organic and sustainable farming is a cause that's very near and dear to them. Over the years, as we have learned the ins and outs of the global coffee business, we have taken part in fair trade certification programs, and have also pioneered our own approaches under a variety […]
The post Fair to Farmer: The Cornerstone of Salt Spring Coffee appeared first on Salt Spring Coffee.
2012 was a year of refinement for Salt Spring Coffee. We continued to push the envelope on pioneering sustainable business practices, we deepened our relationships with the farmers who grow our coffee, gave back in many ways to the community, and launched new packaging. We had a ton of fun along the way connecting with our customers through great tasting coffee, shared our story at various events and rolled out […]
The post In 2012 we sharpened our focus and made significant gains with our core programs appeared first on Salt Spring Coffee.