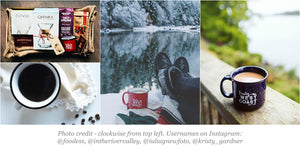 If you're anything like us, coffee plays an important part in the morning ritual. That's why, all December long, we'll be bringing #morningmagic to the people with online giveaways on Instagram and Facebook. Find out how you can win.
The post Salt Spring Coffee makes #morningmagic appeared first on Salt Spring Coffee.
  "Why, sometimes I've believed as many as six impossible things before breakfast." – Lewis Carroll The calm hours as the world wakes are enchanting, especially during the holiday season. We...